Justin's Guide to Taekwon-Do
Links
International Taekwon-Do Federation
---
World Championship
Poland will host the next World Taekwon-Do Championship in summer 2003.
The 12th World Taekwon-Do Championship was held on 3-8 July 2001 in Rimini, Italy. Archived Results

---
Fact
Taekwon-Do techniques are not just limited to kicks. There are a wide variety of hand techniques. In fact, hand techniques make up about 60% of the 3200 movements in Taekwon-Do.
---
Number of hits since 1 January 2002

Number of unique visitors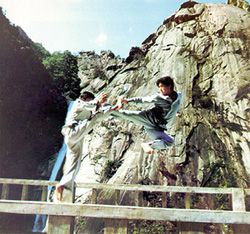 Tae: To jump, kick or smash with the foot
Kwon: To punch with the fist
Do: An art, a way of life
Taekwon-Do is the scientific use of the body in the method of self defence; a body that has gained the ultimate use of its facilities through intensive physical and mental training. Though it is a martial art, its discipline, technique and mental training are the mortar for building a strong sense of justice, fortitude, humility and resolve. It is this mental conditioning that separates the true practitioner from the sensationalist, content with only mastering the fighting aspects of the art.
Sitemap