Facts and Figures
Taekwon-Do World Championships

| | | | | |
| --- | --- | --- | --- | --- |
| No. | Venue | Year | Participants | Countries |
| 1 | Montreal, Canada | Oct 1974 | 450 | 27 |
| 2 | Oklahoma, United States | Sep 1978 | 350 | 21 |
| 3 | Resistencia, Argentina | Aug 1981 | 219 | 13 |
| 4 | Glasgow, Scotland | Apr 1984 | 396 | 23 |
| 5 | Athens, Greece | May 1987 | 490 | 26 |
| 6 | Budapest, Hungary | Dec 1988 | 650 | 46 |
| 7 | Montreal, Canada | Aug 1990 | 520 | 51 |
| 8 | Pyongyang, DPR Korea | Sep 1992 | 820 | 64 |
| 9 | Kuala Terengganu, Malaysia | Jul 1994 | 1000 | 80 |
| 10 | St Petersburg, Russia | 3-6 Jul 1997 | 1200 | 70 |
| 11 | Buenos Aires, Argentina | 28 Aug to 5 Sep 1999 | | |
| 12 | Rimini, Italy | 3 to 8 July 2001 | 600 | 62 |
Held for the first time in Malaysia, this event attracted over 1000 participants from 80 countries.

A photo with General Choi Hong Hi (seated, second from right), founder of Taekwon-Do.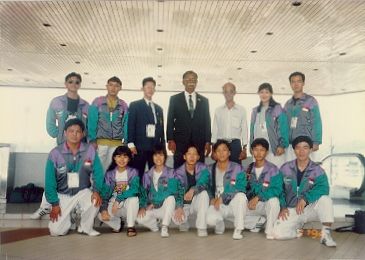 Singapore team photo.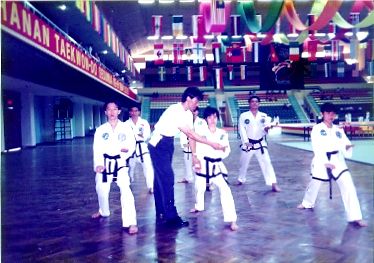 Master Yeo Chin Huat(then 6th dan) correcting the movement Low Stance Palm Pressing Block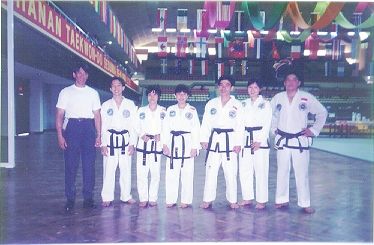 Another photo with Master Yeo(extreme left).